TBSC Principal and Trainers
JAYNE BARTHOLOMEW
I took on the role of Club Training Principal in 2020. I am a relatively new sailor, and I think my experience of starting off knowing literally nothing about being on the water and progressing through the stages until I'm now confident to rig, launch and sail my own boat has shown me how important good training is. I suppose this is the main reason I felt drawn to being Training Principal - but I can also add that it's a role that is immensely interesting and rewarding, with opportunities to meet new people coming to the club and to learn something new all the time. Not least, though, I'd say that it's a way of supporting a great sailing club, with so many people who are generous mentors to all those learning to sail.
HELEN NORTH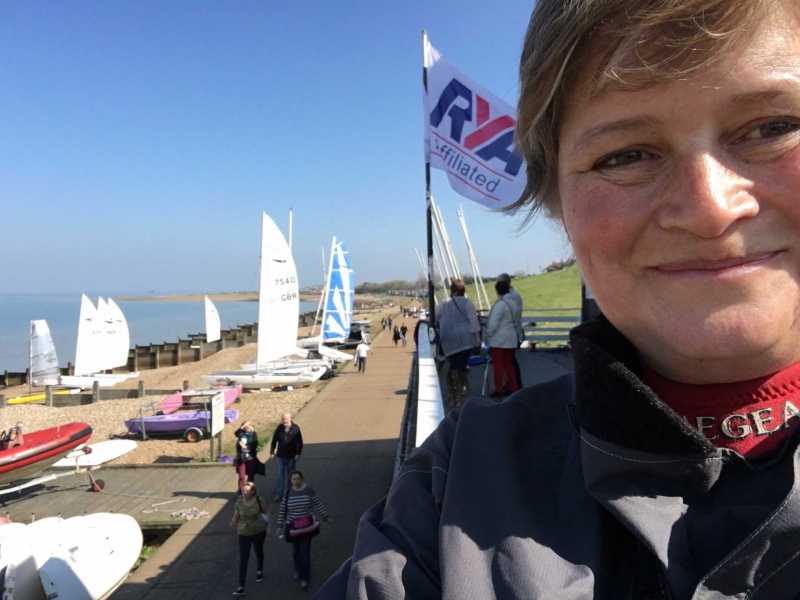 Helen is our centre's RYA Chief Instructor. She has been teaching dinghy sailing for the past 24 years, working as a Senior Instructor in Britain and Europe in both commercial centres and the charitable sector. Helen is also a Powerboat Instructor and has run courses for both private individuals and professional users including the Fire and Rescue Service. With husband Ted she helped to head up the 'Morning Star Trust' for the past 10 years - a sail training charity taking young people to sea on a 62' Gaff Ketch. Helen also regularly skippers a classic Norfolk Broads cruiser, races in the local Kent Barge matches and is fully involved in our club activities. As well as teaching sailing Helen is a qualified teacher and a professional folk singer. So if you want to learn any sea shanties on your course just ask!
TED NORTH
Ted began sailing, aged 8, on a 'Hornet' and has worked for the past 40 years teaching a whole range of adventure sports to young people and adults. For many years he ran a commercial waterfront on the French coast with over 100 people afloat at any one time. More recently he has worked as a powerboat trainer, activities developer to Centre Parks and as CEO for the 'Morning Star Trust'; a Christian sail training charity taking young people to sea on a 62' Gaff Ketch. Ted has recently retired as an RYA Senior Sailing instructor holding keel boat, multi-hull and performance endorsements, although he occasionally comes out of retirement as an assistant instructor for our Centre and is the Club's Chief Powerboat Instructor, bringing his many years of experience to our team.
BARRY SHEFFIELD
A member of TBSC for more than 20 years Barry is one of our four RYA Powerboat Instructors. Having first learnt to sail in the early 90s on dinghies and yachts he nowadays enjoys nothing more than a lazy afternoon cruise along the coast in company with friends from the club (invariably ending up at a favourite beachside watering hole!) and at weekends, when the conditions are right, you'll more often than not find him careering round the bay on his 'probably too quick for him' and occasionaly upright Formula 18 racing catamaran. Well, someone's got to do it!
JAMES HILLS
James joined TBSC in 1999 as a family member at the tender age of eight and over the years he enjoyed taking out the family's Swallow, Topper and Pico dinghies throughout the summer holidays. After moving away and then eventually returning to Tankerton in 2015 with a PB2 ticket gained elsewhere he took the helm of the Support Boat while helping out his father Colin carry out a volunteer duty. Once ashore, then Vice Commodore Mike Coleman intimated a need for more RIB Helms at TBSC, and James gladly committed to provide fleet support until the end of the month; five years later he's still here, operating as Senior RIB Helm whenever he can. He gained a Safety Boat qualification from our RTC in 2018 and became one of four Powerboat Instructors in 2019. He has an interest in safety on and off the water, piqued in his career in the utilities industry. He is a member of IOSH, holding their 'Managing Safely' qualification, and in 2019 gained his NEBOSH National General Certificate, both of which are beneficial in maintaining a support service in a growing and ever-changing club. He finds looking after sailors of all abilities on the water very rewarding, particularly likes 'extracurricular' long cruises to further destinations, and loves being out in choppy and windy weather the most - with big enough waves to catch some air!
HANNAH RICHARDS
Hannah joined Tankerton Bay Sailing Club in 2018, having been awarded the Alex Holliday Scholarship by the Club. During that year she completed her Royal Yachting Associating (RYA) Level 1, as well as taking part in lots of club racing. She has since begun teaching on sailing courses as an Assistant Instructor and has completed her RYA Level 2 and Seamanship awards. More recently she has passed her RYA Powerboat Level 2 qualification and is working towards becoming an RYA Dinghy Instructor during 2022. She looks forward to teaching others to sail over the coming years and to developing her own skills.
ETHAN LOW
Ethan has always had a passion for the water. He started sailing at Tankerton Bay Sailing Club (TBSC) in his early teen years, learning on Pico, Topper and Fusion dinghies. His enthusiastic approach to water sports and the maritime industry helps others progress on the water. Throughout his time at TBSC he has gained his Royal Yachting Associating (RYA) Levels 1 and 2 and his RYA Powerboat Level 2 qualification. He spends every free moment throughout the summer at the Club, volunteering as a safety boat helm on one of the club's three RIBs or competing in dinghy racing. In 2021 he competed in the Man of Kent Regatta, coming first in his class. Ethan is qualified as an RYA Assistant Instructor and is currently working towards his RYA Dinghy Instructor qualification. He loves nothing more than racing across the bay on the "trapeze" of a Dart 18 or manoeuvring a powerboat in challenging conditions.